Objective and Activities
ACTIVITIES OF THE RUSSIAN COMMITTEE OF THE UNESCO INFORMATION FOR ALL PROGRAM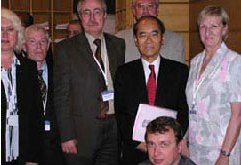 The Russian Committee promotes the ideas of the Program and attracts interested organizations and persons to its implementation. To promote the elaboration of a topical socially oriented information policy aimed at the development of knowledge and habits necessary for life in the information society is the principal goal of the Committee.
Active participation of the Russian Committee in developing and implementing the Information for All Program in Russia and at the international level enhances the position of our country in UNESCO and its influence on the formation of the international information policy.
The Russian IFAP Committee attaches special importance to the rapprochement of the positions of ruling bodies, commercial companies, public organizations and other interested parties in building knowledge societies and the global information society.
The IFAP Bureau named Russia the leader of Program implementation
late in 2005 among the 50 countries which had established national IFAP committees.
Within the 9 years of its work, the Russian IFAP Committee carried out several tens of events popularizing UNESCO and developing the Program. Participating in those events were tens of thousands of experts on information, librarianship and archives, journalists, politicians and businessmen of many countries. Several hundred articles and close on 50 books were written, several tens of compact discs appeared, and a great many other original projects were implemented. The Committee twice arranged presentations of its activities at Intergovernmental Council for the Information for All Program sessions in Paris. The idea of pooling the efforts of the Information for All Program and European Union programs Minerva and Minerva Plus appeared in the Committee.
See the section
"Projects"
for more details of Russian IFAP Committee activities.
THE ROLE OF THE RUSSIAN IFAP COMMITTEE IN UNESCO ACTIVITIES CONNECTED WITH THE WORLD SUMMIT ON THE INFORMATION SOCIETY
The Russian position on the drafts of UNESCO documents basic for the information society—the Charter on the Preservation of the Digital Heritage and the Recommendation concerning the Promotion and Use of Multilingualism and Universal Access to Cyberspace, both adopted at the 32nd UNESCO General Conference—was elaborated on Russian IFAP Committee initiative.
The Russian IFAP Committee proposed to convene the international conference "
UNESCO between Two Phases of the World Summit on the Information Society".
The Russian President and Government, and UNESCO all supported the initiative. The conference gathered 500 experts from 52 countries in St. Petersburg on May 17-19, 2005, and was great success. It earned the highest opinion and gratitude of Koichiro Matsuura, UNESCO Director-General. The conference summarized and generalized the UNESCO Thematic Meetings during preparations for the second round of the WSIS in Tunis. Unlike other thematic UNESCO events, the conference concerned every field of Organization competences. As Mr. Matsuura said, to determine the further steps and basic decisions of UNESCO in building the global information society was its principal goal.
The Russian IFAP Committee translated into Russian and put out all key UNESCO publications on themes pertaining to the WSIS (see the section "Publications")